Saisonziel HC Pustertal 2018/19
Der HC Pustertal versucht nachhaltig und mittelfristig eine stabile Basis an Spielern zu fordern und fördern. Dieser Spielerstamm ist für den HCP von großer Bedeutung und Wichtigkeit. Schwerpunkte: Einstellung, Athletik, Identifikation und mentale Härte. Für die anstehende Saison will der HC Pustertal attraktives Eishockey bieten und setzt sich das Ziel in beiden Kompetitionen (Alps Hockey League und Italienmeisterschaft) unter die Top 4 zu kommen.
These are the Wolves – Goals in this Season:
HC pustertal's objective is to build a group of players with a sustainable long term goal in mind. This core group of players is extremely important to the club and underlines the following values: attitude, athletic, commitment and mental toughness. For this season the HC Pustertal Wolves will try to play attractive hockey and has the goal to reach the "Top 4" in Alps Hockey League and Serie A (Italian Championships).
Interessante Links:
Alps Hockey League: www.alps.hockey
Online Ticketing: MiDaTicket
Kader Team 2018/19: Roster HCP
Schedule Download for Devices: Spielkalender Download
Highlights der Spiele: Videos HC Pustertal
Video Playlist 2018/19: HCP on YouTube
Fotos der Wölfe: HCP on Flickr
Facebook: HCP on Facebook
Instagram: HCP on Instagram
Twitter: HCP on Twitter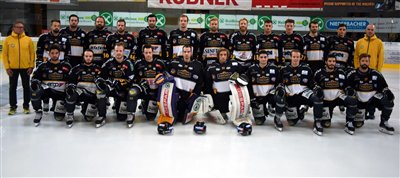 Vordere Reihe: Andergassen – DeLorenzo A. – Helfer – Elliscasis – Furlong – Stoll – Piroso – DeLorenzo L. – Traversa – Virtala M.
Hintere Reihe: Machacka (Ass. Coach) – Virtala T. – Corbett – Oberrauch –March – Althuber – Gander – Hofer – Erlacher – Leitner – Berger – Brunner – Laner – Mattila (Coach)