Il traguardo stagionale dei "Lupi"
L'HC Val Pusteria vuole creare una base solida di giocatori per il futuro a medio e lungo termine. Questo zoccolo duro di giocatori sarà di grande importanza per l' HCP. Punti forti dovranno essere: l'impostazione mentale, condizione fisica, l' identificarsi nella squadra e nel progetto e la determinazione. Per la prossima stagione l' HC Val Pusteria vuole proporre hockey di livello, puntando a in alto (entro le top 4 classificate) sia in AHL che in Serie A.
These are the Wolves – Goals in this Season:
HC pustertal's objective is to build a group of players with a sustainable long term goal in mind. This core group of players is extremely important to the club and underlines the following values: attitude, athletic, commitment and mental toughness. For this season the HC Pustertal Wolves will try to play attractive hockey and has the goal to reach the "Top 4" in Alps Hockey League and Serie A (Italian Championships).
Link interessanti:
Alps Hockey League: www.alps.hockey
Online Ticketing: MiDaTicket
Roster 2018/19: Roster HCP
Schedule Download for Devices: Download Calendario
Highlights partite: Video HC Pustertal
Video Playlist 2018/19: HCP on YouTube
Fotos dei lupi: HCP on Flickr
Facebook: HCP on Facebook
Instagram: HCP on Instagram
Twitter: HCP on Twitter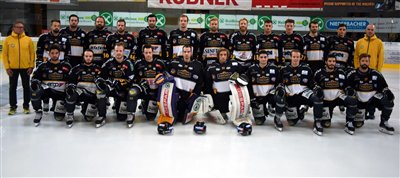 Prima fila: Andergassen – DeLorenzo A. – Helfer – Elliscasis – Furlong – Stoll – Piroso – DeLorenzo L. – Traversa – Virtala M.
Seconda fila: Machacka (Ass. Coach) – Virtala T. – Corbett – Oberrauch –March – Althuber – Gander – Hofer – Erlacher – Leitner – Berger – Brunner – Laner – Mattila (Coach)